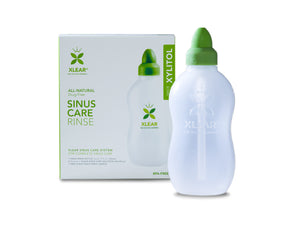 The Xlear Sinus Care System with Xylitol combines the wisdom of the past with modern research on the amazing benefits of all-natural Xylitol-professionally developed to offer and easy-to-use system tailored to meet any need.
Xlear Sinus Rinse Product contains a uniquely designed squeeze bottle that can be used for Positive Pressure Rinsing of the nasal passages. The Xlear Sinus Care Refill Solution improves the efficacy of this method while soothing and Moisturizing.
The Xlear Sinus Care line is the Xlear Solution; it combines the traditional nasal and sinus cleansers of pure Celtic Sea Salt® and sodium bicarbonate (as a natural buffer) with all-natural, pharmaceutical grade xylitol.
Why Xlear with Xylitol?
Promotes sinus health
Cleanses, soothes and moisturizes
Safely removes airborne contaminants, pollen, dust and other irritants.
Patented formula with Xylitol
Recommended by ENT's, Allergists, pediatricians, and other health care professionals worldwide
Who should Use the Sinus Care Rinse?
Safe for use by children and adults
Safe for use during pregnancy or while nursing
Anyone with seasonal sinus issues
CPAP users - to clean and hydrate the nasal passages
Those exposed to airborne contaminants
Use along with Xlear Sinus Spray, and Xlear Sinus Care Solution with Xylitol for complete sinus care.