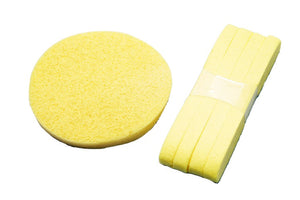 PVA Facial Cleansing Sponges

*5 Pieces Per Pack
*Soft and Gentle for all skin types
*Excellent water retention and super absorbing

PVA Sponge (Polyvinyl Alcohol Sponge) is a super absorbing synthetic material with excellent water retention rate. With its open-cell and fine texture, this sponge is soft and gentle to every skin type. It is deal for facial cleansing. PVA sponge is hardened when dry. Once wet, it is soft and absorbent. Simple immerse in water to regain its softness and original size.