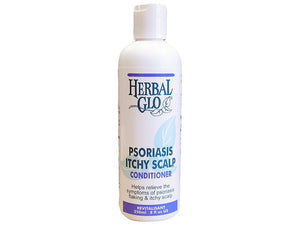 Helps Relieve the Symptoms of Psoriasis Flaking and Itchy Scalp
Herbal Glo helps soothe the itching and burning of the scalp caused by psoriasis. Herbal Glo Psoriasis and Itchy Scalp Conditioner is specially formulated with:
Tea Tree Oil
Salicylic Acid (Meadowseet Extract)
Neem Oil
Juniper Berry Extract
Willowherb Extract
Thyme Extract
Aloe Vera Extract
Grapefruit Seed Extract
This formula helps to correct an itchy, flaky scalp and to condition the hair. It helps maintain the healthy-looking scalp left by the Herbal Glo Psoriasis Shampoo. You will soon see and feel the difference!