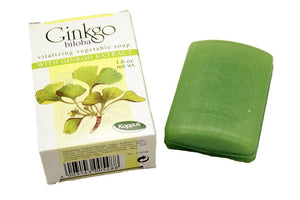 72% Organic Vegetable Based Oils

Cleans and Moisturizes at the Same Time

Milled 6 Times to ensure a longer lasting bar of soap with less water content!

pH Balanced and 100% Biodegradable

Not tested on animals
It's very rare that we as consumers have access to something as amazing as products from Kappus. So what makes our Martina Collection soaps from Kappus so unique? They are made with 72% organic vegetable based oils, which cleans and moisturizes your skin at the same time. Kappus also mills their soaps 6 times to ensure a longer lasting bar of soap. These soaps are pH balanced, not tested on animals and are 100% biodegradable. Kappus also puts the natural fatty acids from the plant oils back into the soap which moisturizes the skin. 
With a multitude of soaps, body shampoos and lotions, Kappus provides a quality line of products. Imported from Germany, these products rise above and beyond your average soap.
By purchasing our oval soaps you can help reduce the amount of plastic waste in our environment.