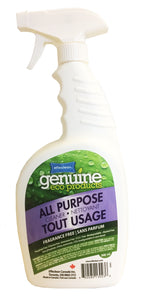 Effeclean makes eco friendly products that are safe to use, and safe for
the environment. Developed with proven formulations that are both green and provide effective cleaning performance.
Effeclean™ Genuine Eco All Purpose Cleaners are versatile, multipurpose, non-toxic cleaners that clean most of the hard surfaces that are water washable for the house, office and industry. Highly effective in removing the toughest grease and stuck-on debris leaving the area clean and smelling fresh. Great for cleaning toys and kids play area and it will not dry out your hands.